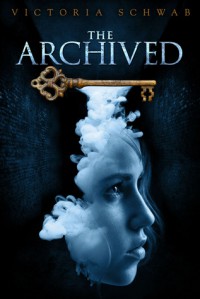 3.5 stars.
I could probably give this book millions of stars for its idea, but that would count for nothing if the prose wasn't executed correctly. And I'm not saying
The Archived
wasn't - just that I expected something differently, in a different direction.
So yeah, this was a bit of a disappointment.
But I can't give anything less than three stars to a cover and inside cover so gorgeous it makes me want to cry.
So, anyway, we follow the adventures of a Mackenzie Bishop as she hunts down Histories in the Narrows and brings them back to the Archive. This is our basic premise of the book, and I think, with lots of imagination, this could've been developed upon and we could've gotten lots of badass scenes if Schwab wanted us to.
Alas, we didn't.
So then we find out that someone is giving Histories weapons and they're finding their way out of the Archive. Interesting, right? Because I sure as hell was interested.
Except as we delve deeper into this Library world of Mackenzie's, it was strangely ... Normal. Which is bad. I was expecting some floating books, maybe a magic red carpet, a witchy librarian, you know, some magical elements. But we get a secretary, multiple librarians, and Mackenzie-not-allowed-in-the-libraryness.
Which was kind of disappointing.
And then there's the issue of Wes.
He's okay, in a goth-emo-bad-boy kind of way. I actually kind of forgot his name for second, so I guess that proves he's not exactly the most memorable. I like the fact that he's different from other YA male leads, but for me, I felt the gothness was a tad overdone, but that must've been me.
Anyway, this was a disappointment in lots of ways, but I loved the font and I loved the cover so damn much. And the sequel actually sounds really badass, so I'm willing to give Victoria Schwab another chance.